StanceBeam partners with boAt; launches StanceOS to bring sports analytics to smartwatches.
Posted on April 13, 2023 at 02:30 PM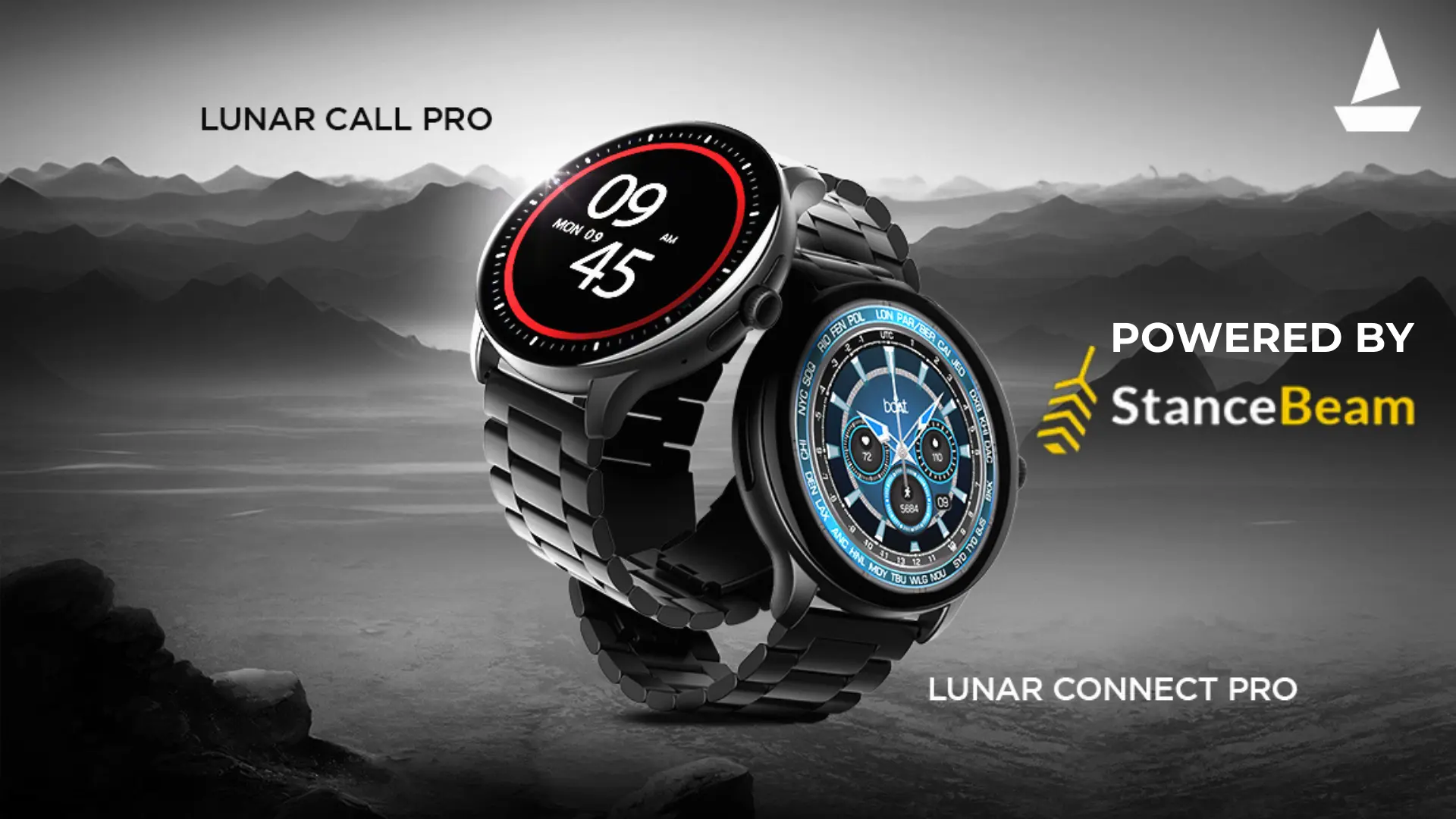 StanceBeam, a leading sports technology start-up based in India, has teamed up with India's No.1 wearables brand boAt to launch StanceOS - advanced smart sensors and sports motion sensing AI technology in smartwatches. The timing of this innovation is perfect, as it coincides with the IPL season and the upcoming cricket world cup. With this innovation, young players will have access to cricket analytics, which could be instrumental in identifying the next wave of cricket talent.
StanceBeam's revolutionary sports technology will provide boAt smartwatch users with unparalleled insight into their cricket performance, progression, and analytics of their batting and bowling. This innovation will benefit cricket players and coaches of all levels and age groups by providing game insights and improvement tips based on metrics such as bowling arm speed, bat speed, and other key indicators. StanceOS is enabling more professional and amateur players to access a new level of cricket analytics through quick and easy adoption by powering the smartwatch ecosystem. Currently, StanceOS is available for newly launched premium segment watches such as boAt Lunar Connect Pro and Lunar Call Pro. StanceBeam's vision is to make sports analytics and fan engagement accessible and pervasive by powering the smartwatch ecosystem.
Ishwinderpal Singh - co-founder and COO of StanceBeam quoted "We are excited about our partnership with boAt as it is empowering us to take technology to masses and helping make cutting edge sports analytics reachable to all".
Singh further added "By bringing analytics to the Smart watches, such as our unique batting hand speed and bowling arm speed, an IP which has been verified for 97%+ accuracy by the I3D Lab at Indian Institute of Science, Bangalore through a validation study recently - we hope to help develop and identify the next wave a cricket talent that is coming across all levels of cricket."
Click here to know more about StanceBeam
Sameer Mehta, CEO and Managing Director of boAt quoted, "Wearables are designed to track fitness metrics and it looks stylish also. This makes them a popular choice for individuals who are looking to improve their overall health and wellness. By working with homegrown deep tech start-ups like StanceBeam, we look forward to strengthening our smartwatch roadmap. This partnership is a conscious step to update our smartwatch ecosystem and offer boAtheads with healthy lifestyle solutions."
Click here to check out the boAt smartwatches
More about StanceBeam
Founded in 2017, StanceBeam is one of the first companies in the world to innovate and globally launch Smart Sensor chip and analytics solution for Cricket. With industry-leading sensor algorithms and sports motion modelling algorithms, StanceBeam provides instant, motion analysis and deep insights to help players improve their game. StanceBeam smart sensors and motion algorithms cover cricket, badminton, tennis, skipping, and other sports and fitness activities. StanceBeam also continues to develop sports video analysis and processing based on computer vision and AI. StanceBeam is HQ in Bangalore and accounts Shikhar Dhawan and Govt. of Karnataka as its early backers. StanceBeam technology is regarded as best in class, and they have already received industry recognition awards like "Elevate100" and "KPMG Game Changers" for technological innovation.
About Imagine Marketing Limited (Parent company of boAt):
Established in 2013 by Aman Gupta & Sameer Mehta, Imagine Marketing Ltd. offers a product portfolio ranging from audio gear, smart wearables, personal grooming, mobile accessories, and much more. Under the Imagine umbrella, boAt came to life and was able to disrupt the audio industry to become the #1 Audio brand in the country (In terms of shipments per the latest IDC data). boAt's portfolio offers well-designed, innovative, and distinctive fashionable lifestyle-oriented products at attractive price points targeted at a young and widely addressable audience within India. Furthermore, with a massive cultural shift towards DIY post covid, Imagine Marketing Ltd. forayed into personal care appliances and introduced MISFIT, a self-care and grooming brand with the motto 'Never Fit In', the brand is aimed at addressing gender stigma through a colourful brand vision and bold conversations. In 2020, Imagine Marketing also acquired RedGear, a gaming accessory brand that deals in gaming keyboards, mice, gamepads, and headphones. RedGear aims to bring gaming to the masses and support the ones who wish to turn their passion into their profession. Imagine Marketing has associated itself with global names such as Qualcomm and Dolby to innovate their products and is backed by Warburg Pincus, a global private equity fund. The company currently has offices across Delhi, Mumbai & Bengaluru.
Share on
---
StanceBeam
Content from the team with a passion for cricket.